---
It's All Goodz Smoke Shop is hosting the 2017 Arizona's Finest Glass Blowing Competition taking place on April 14th, 15th and 16th, 2017. The competition is being held at both It's All Goodz locations in Phoenix and Tempe and will feature 16 of the top glass blowers from all over Arizona. There will be live glass blowing at both It's All Goodz locations on the 14th and 15th and a judging ceremony with live music and food on the 16th.
Featuring live performances by:
Lody Kong, Treez Cordova, Odd Squad Family, Paul West B2B Le Idiom (Playing House Records), SkyWriter, Sonic Chemistry, Gojifye and more TBA!
+ Live glass blowing by Larry Limes.
The competition will be two days of glass blowing and will end with a judges vote and cash prize ceremony
for the top 3 pieces in the competition on the 3rd day from 6-9pm, 1st Place receiving $5000, 2nd Place $1000 and 3rd Place $500 plus more prizes and give aways!
---
Each artist will be judged on the following:
• Technical Ability (Technic, Welds, Cleanliness, etc.) (1-10)
• Originality (1-10)
• Solid Sculptural Work (1-10)
• Hollow Blown (1-10)
• Peoples Choice (adds points 5 to end score)
---
Featuring Guest Judges: 'Bandhu' Scott Dunham, Kevin Dankman (Glass Culture Magazine)/ Kevin O'grady & Charles Lowrie.
---
Schedule
April 14th
Tempe AM 11-5:
Brian Jacobson, Gumby Glass
---
Tempe PM 6-12:
Devol, Erk De jerk
---
Phoenix AM 11-5:
HPLoveglass, Chase Glass
---
Phoenix PM 6-12:
Chris Riley, Desi B
---
April 15th
Tempe AM 11-5:
Shuhbuh, Hic Dogg
---
Tempe PM 6-12:
Davey Cakes, Hendy
---
Phoenix AM 11-5:
Fathead, Fish
---
Phoenix PM 6-12:
Grimm, Know Ego
---
---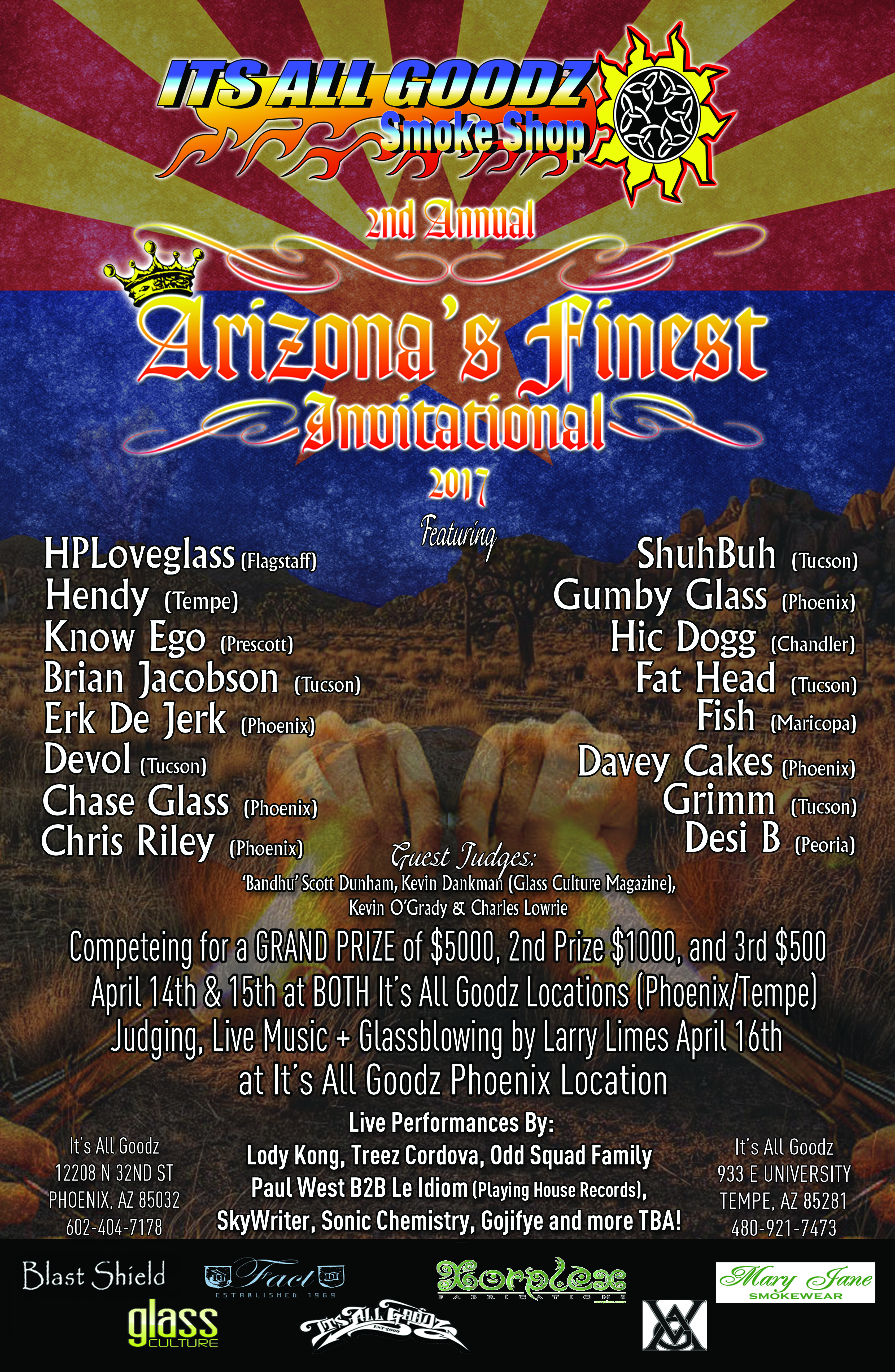 ---
Last Year's Winners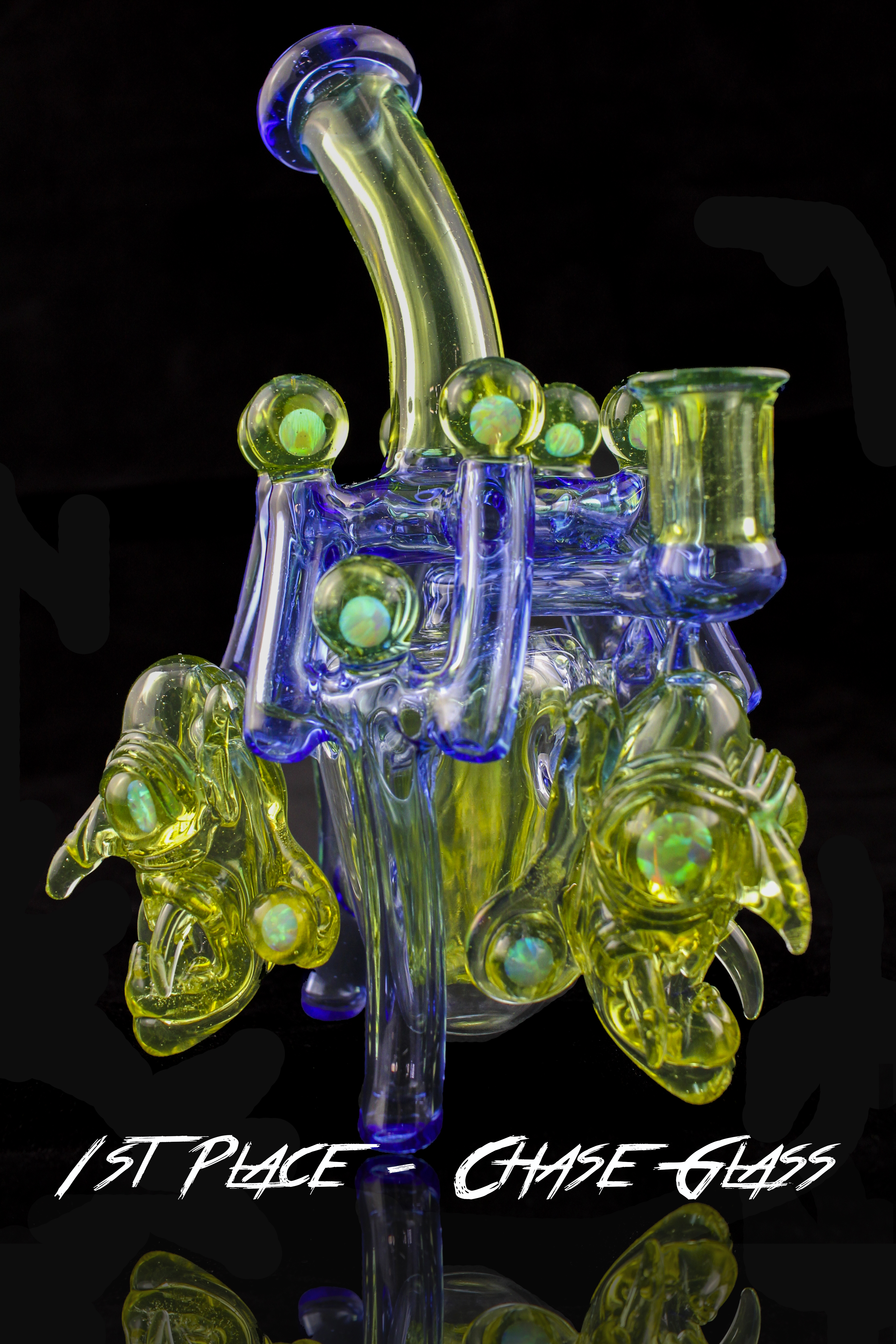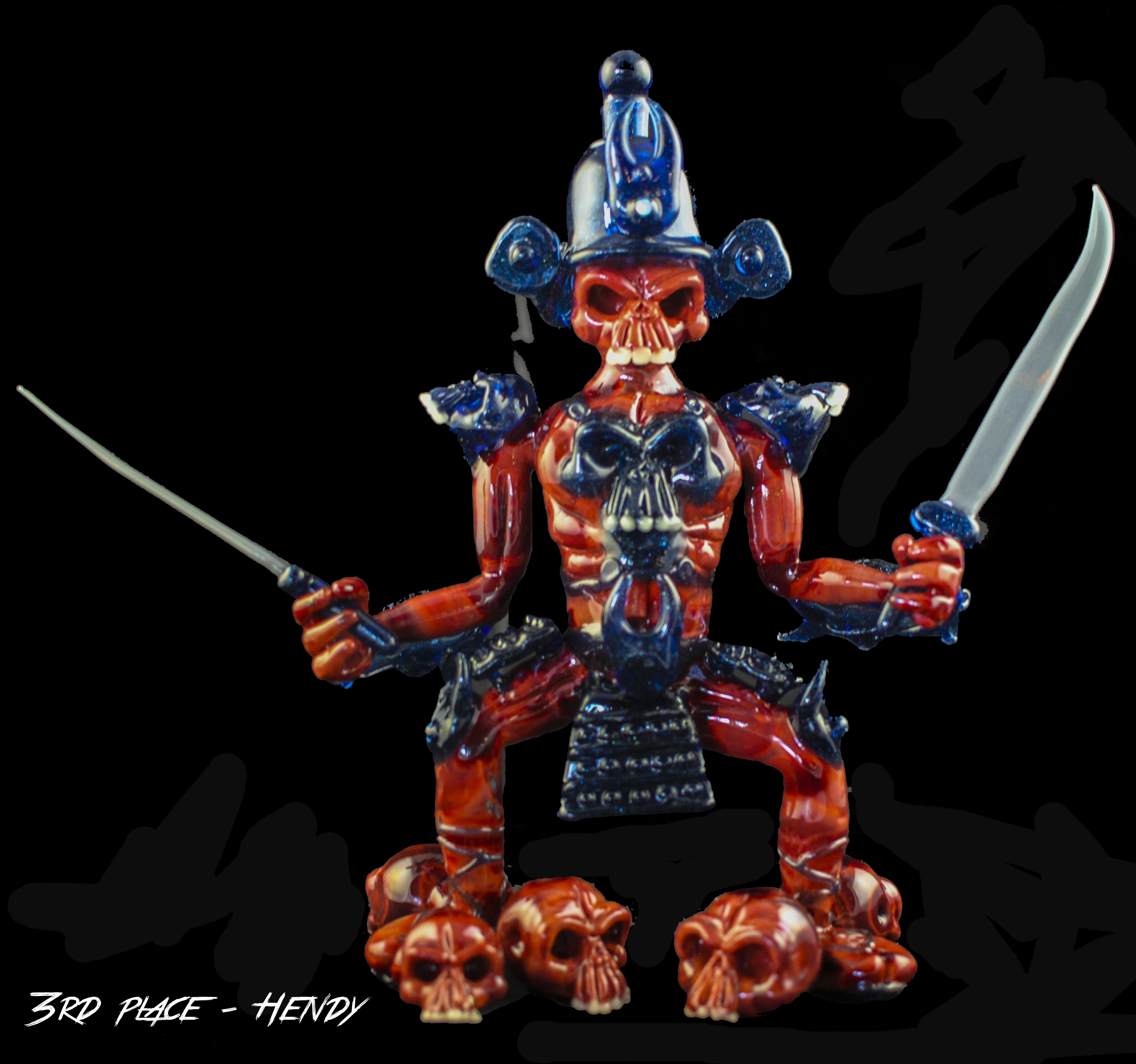 ---